Christmas is one of those holidays (after Halloween) where you need to decorate so you can feel the "Christmassy" vibe.
I love the Christmas season but I'm not one of those people who love covering the entire house with Christmas decor. Few accent pieces here and there around your home can make a statement.
I've listed 5 ideas that are just great because you can repurpose your old Christmas decors. It is very easy to do and they will be great statement pieces around your home.
DIY Christmas Tree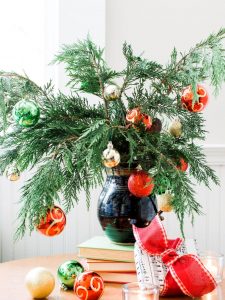 Have a vase of evergreen clippings from your garden. Make it festive by hanging ornaments onto the branches and piling presents beneath your tree. Change the water every few days to keep the greenery looking its best. This can be a great idea if you want to have a unique piece at home.
Light Up Your Entryway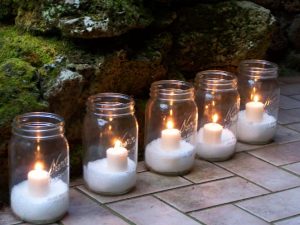 Create a warm and inviting entry for guests during the Christmas season. Fill mason jars with Epsom salt for a snowy, winter look, then add small votive candles and line the walkway leading to your front door.
Freshen Up Your Wreath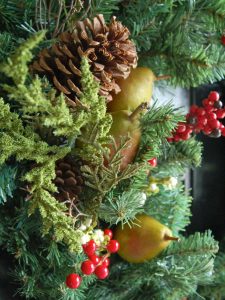 Add fresh fruit and collected pine cones to an artificial wreath lends a more natural look. Incorporating just a few natural material is an easy way to take an evergreen wreath from blah to beautiful.
Gift Box Mantel Decor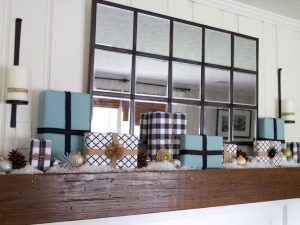 Give your mantel a beautiful and unique Christmas decor by using a variety of empty food boxes and wrap them in three or four different kinds of fabric or wrapping paper that all coordinate with one another. Then finish off each gift box with decorative ribbon — like fabric, satin or twine — and hair flowers for embellishments. Arrange the wrapped "gifts" among ornaments, pinecones, candles and other glittery holiday decor for a fun and festive vignette. Design by Layla Palmer. Get step-by-step instructions.
Add Sparkles to your Staircase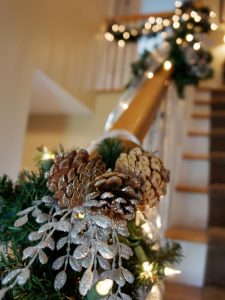 Make your very own Christmas staircase with holiday garland, silver ribbon and natural pinecones. Add silk greenery to the pinecones and coat them with silver metallic paint for a shimmery look that will bring holiday cheer all season long.
Metallic Candle Holders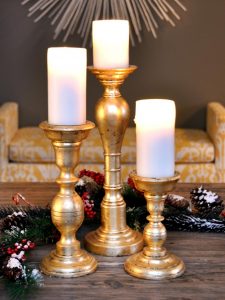 If you have worn out or old candle holders sitting in your attic for a while, sand it up and spray it with gold or silver. Then add a gold leaf, making them the ideal tabletop centerpiece or coffee table adornment. Get step-by-step instructions.
Design your very own candle tray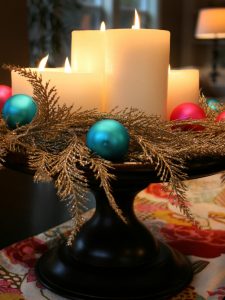 Update an existing candle tray to warm up your holiday dining experience. Janell Beals wraps glittery garland around neutral everyday candles and scatters ornaments among the branches for a bright, colorful look.
Silver Bells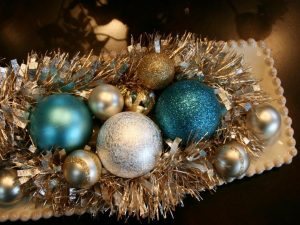 Layer garland with a collection of colorful ornaments in your favorite tray to create an irresistible holiday centerpiece or sofa table addition. Janell Beals dresses up a vintage-inspired porcelain tray with bold accessories and uses a mixture of silver, blue and gold hues for an individualized twist on the traditional red and green.
Article Reference and Photo Credits to: HGTV.com
Elaine Fernando is a Professional Organizer, a member of the National Association of Professional Organizers (NAPO) and a member of APPO (Association of Personal Photo Organizers). Elaine may be reached at 908-630-8995 or [email protected]