In this day and age where emails and instant messaging is flourishing while postal mails die out, we are still having that problem in handling mail effectively. We still receive receipts, vouchers, even bills and notices via snail mail, and that we are going to give you tips on how to handle and process your mail effectively!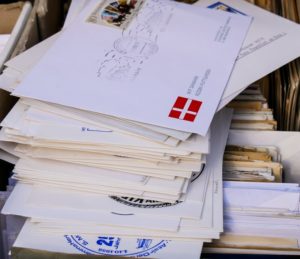 Tip #1: Have a place for your Mail
It's better to have a small organizer or folder where you can categorize your mail. Let's say you have mail for your Utilities, Credit Card Bills, Notices, Memos, etc. Try to segregate them into slots so you can easily find them. You can also use a small and portable hanging file folder.
Tip #2: Have a mini office organizer
Keep a mini office organizer just beside your file folder. You can use a small container with separators so you can separate things in your office like office supplies. It's important that you utilize your office supplies for you to stay organized.
Tip #3: Have a small trash or recycling bin near your front door
The purpose of having a trash or recycling bin near your door is so you can easily segrarate mail that you don't have to read. Cleaning up your mail is simply tossing any junk mail as you walk in, so it doesn't become clutter later on. Unsubscribing to catalogs or other subscriptions that you have no interest to or didn't sign up with in the beginning should be a "to do now" rather than later. Purchase a paper shredder. Many paper shredders have the ability to latch onto the rim of trash cans, so all the paper flows right into the trash bag.
Tip #4: Always look through your mail
The easiest way to organize your mails is to check them and have the habit of classifying which ones are to file, act or toss. Check your mail every night so you won't wake up the next day flooded with unread mail (I bet you don't want that! neither do I!)
and last but not the least..
Tip #5: Have a basket for your catalogs and magazines (even newspapers!)
If you have subscriptions throw them in your basket especially if you're not going to read them immediately or it is out of date. It's also a smart way to put them out for recycling. Kids tend to have projects where they have to make magazine collages, so if the magazine is old or you don't care for it anymore, allow them to use it for their projects.
Elaine Fernando is a Central NJ professional organizer, a member of the National Association of Professional Organizers (NAPO), NAPO-NNJ and a member of APPO (Association of Personal Photo Organizers). Elaine may be reached at 908-630-8995 or elaine@organizedtransitionsllc.com